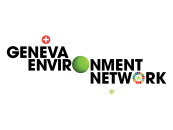 The Geneva Environment Network
"The Geneva Environment Network (GEN) is a cooperative partnership of more than 100 environmental and sustainable development organizations based at the International Environment House in Geneva and at other locations in the surrounding region. They include United Nations offices and programmes, intergovernmental organizations, NGOs, local governmental authorities and academic institutions.
Established in 1999, GEN organizes and hosts meetings, roundtables, briefings and workshops promoting the dissemination of information and public awareness of environmental issues. In addition, GEN actively promotes increased cooperation and networking among its partners and develops a weekly newsletter highlighting the latest news, resources, events and job opportunities in the region."
The Geneva Environment Network contributed to the event through the participation of Ms. Diana Rizzolio, Coordinator, Geneva Environment Network.