On 28 April 2022, in New York, President of GCH and deputy Mayor of Geneva Mr. Sami Kanaan took part in the UNGA High Level Meeting to review progress on the implementation of the New Urban Agenda (see UNTV webcast here, at 02.02.00 hour). He was invited by the UN Economic Commission for Europe to introduce the Forum of Mayors, which embodies a modern and inclusive multilateralism, promoted by UN Secretary-General Mr. Antonio Guterres. More than 90 delegations of States (including more than 30 at ministerial level), 9 Mayors and other stakeholders reaffirmed their commitment to the New Urban Agenda, which aims at transforming cities and ensuring they become more inclusive, resilient, sustainable and safer in an ever increasingly urbanized world.
As the UN seeks to demonstrate that it remains relevant and grounded in the real world, it was important for the organization to open its doors and include local and regional governments in its deliberations, so as to demonstrate its ability to work with and listen to all relevant actors. Through their participation, Mr. Sami Kanaan and other Mayors expressed their interest in contributing to global governance and the need for them to be recognized as full-fledged multilateral partners.
In the margins of the UNGA High Level Meeting on the New Urban Agenda, Mr. Kanaan also held informal bilateral meetings to introduce the Geneva Cities Hub to various actors, including the Executive Office of the UN Secretary General. Sami Kanaan underlined the work of GCH to promote and facilitate the inclusion of local and regional governments in the UN multilateralism in Geneva.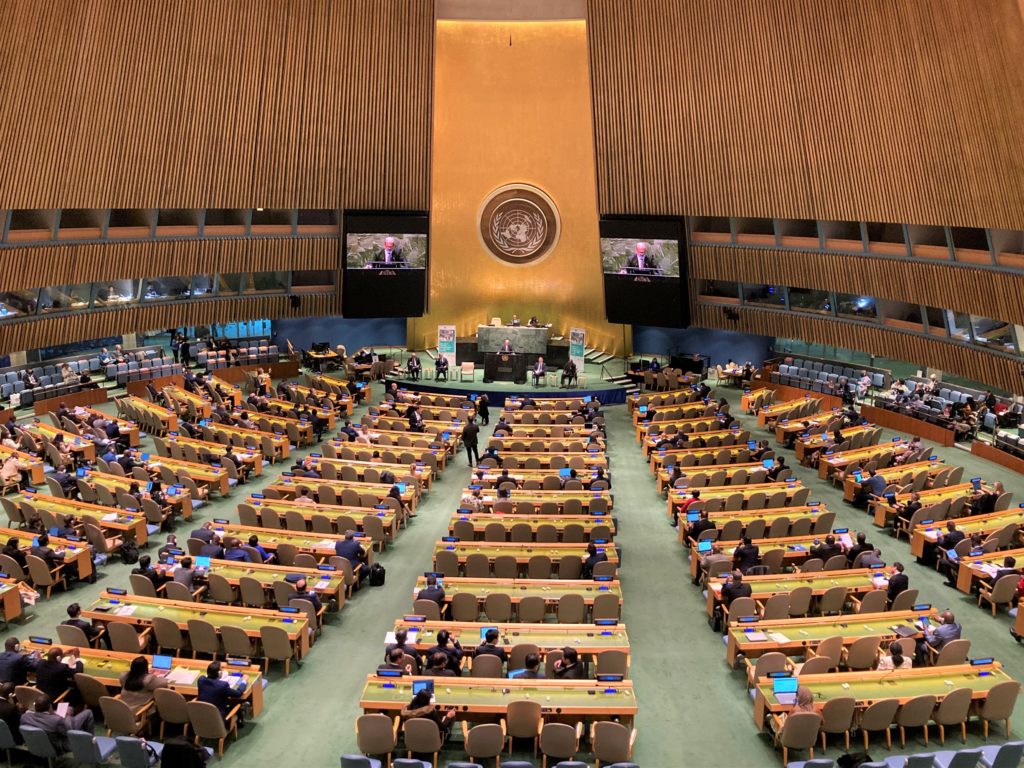 Statement from Sami Kanaan, GCH President and deputy Mayor of Geneva at the UNGA High Level Meeting on the New Urban Agenda, 28 April 2022, New York
Mr. President,
Excellencies,
Ladies and Gentlemen,
It is an honour to take part in this meeting of the UNGA on the New Urban Agenda : first in my capacity as Mayor of Geneva and President of the Geneva Cities Hub; and second, as a witness and promoter of a renewed multilateralism which had a landmark event in Geneva with the 2nd edition of the UNECE Forum of Mayors.
The Forum of Mayors is unique because the voices of local authorities can be heard directly in a multilateral UN framework. More than 40 locally elected officials participated in the 2nd edition of the Forum to discuss the necessary measures to achieve the SDGs in an increasingly urbanized world heavily marked by Covid-19, as well as armed conflicts, the climate emergency, rising social inequalities and accelerated digitalization in our society.
The participation of Mayors went far beyond their declarations in plenary. We shared good urban practices and our commitments for cities that are more sustainable, inclusive and which leave no one behind. Most importantly, we shaped the Forum's format and content, opened it to other regions, and collectively reflected on its future.
The Forum of Mayors embodies a modern and inclusive multilateralism. That is why the Geneva Cities Hub has supported it and will continue to do so, in order for it to become an effective multilateral tool that goes beyond the UNECE region and that focuses on collaboration between cities themselves, in partnership with cities networks of the Global Task Force on Local and Regional Governments, but also obviously with States and other stakeholders.
Mayors must participate to global governance. They have local and innovative solutions that help address global challenges. But in order to share them, they must be provided with more space on the international stage and be acknowledged as multilateral partners.
I thank you for your attention.